FOR IMMEDIATE RELEASE
May 1, 2023
San Diego, CA – Leading San Diego real estate team, The La Mattery and Lecuna Real Estate Team, is excited to announce its official expansion into the agricultural and raw land market with a focus on the De Luz and Fallbrook areas, known respectively as the avocado capital of the US and the vineyard capital of Southern California.
With this expansion, John La Mattery and Daniel Lecuna, co-founders of the La Mattery and Lecuna Real Estate Team, adds to its already impressive portfolio of services that include selling residential real estate and raw land across Southern California. The company's new focus on agricultural and raw land will allow it to assist clients looking for rural executive lifestyle or investment opportunities in the area.
As part of this new venture, the team successfully sold a 350-acre property in the Fallbrook community last fall (40550 De Luz Murietta Rd). The property featured a failed licensed hemp farm, a neglected vineyard, and multiple outbuildings, residences, barns, greenhouse, and a runway down the middle for "bush" pilots. Despite taking a year to sell, the team's networking efforts led to the property being connected with a winery in Temecula that was in dire need of additional vines for their production and with a retreat company that was actively looking for partnership opportunities.
The sale of this stunning piece of North County land solidified John and Daniel's reputation as "land brokers/agents." The company is thrilled to participate in a wide range of other ventures, including selling raw land subdivisions and representing mom and pop avocado grove owners. Currently, the team has an additional 100 acres of various agricultural (Ag) properties listed for sale with more in the pipeline.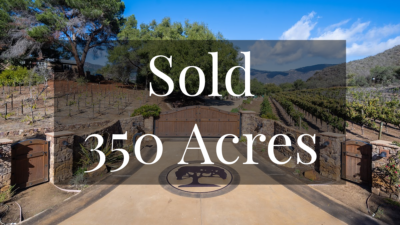 John and Daniel's expansion into the agricultural and raw land market is a natural progression for the company. The De Luz and Fallbrook areas are known for their unique microclimates and fertile soil, which make them ideal for a wide range of crops, including avocados, grapes, citrus, and more. The company's expertise in the local real estate market will allow it to assist clients looking to take advantage of the area's agricultural potential as well as develop and sell custom homes and development sites.
Along with its expansion into the agricultural market, the team remains fully committed to assisting its clients and their families in navigating the process of buying and selling homes across San Diego. Their dedication to their clients' needs and satisfaction is what sets it apart in the competitive real estate market.
La Mattery and Lecuna Team's entrance into the agricultural market comes at an exciting time for the industry. According to a recent report by the USDA, the US agricultural land market has seen steady growth over the past few years, with land values increasing by 1.7% in 2020 alone. As the demand for locally grown food continues to rise, the value of agricultural land is expected to follow suit.
"We are excited to extend our services into the agricultural and raw land market and help our clients take advantage of the unique opportunities available in the De Luz and Fallbrook areas," said Hilary Troutman, the team's spokesperson. "Our expansion into this market complements our existing services and allows us to offer a wider range of real estate solutions to our clients."
For more information on the team's services, visit www.owninginsandiego.com or call 858.876.2006.